Armed robbers target Shoreham Co-op store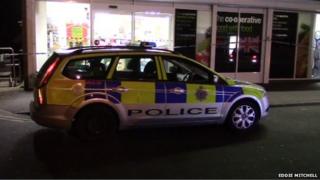 Two men armed with handguns have raided a shop in West Sussex.
The suspects, both wearing scarves and hoods covering their faces, targeted the Co-op store on Royal George Parade in Shoreham at 19:35 GMT on Saturday.
Staff were told to open the tills and the men left with about £300 cash and 200 cigarette packets. No-one was hurt.
One of the men was wearing a blue hooded top, while the other wore a long baggy dark jacket. Anyone with any information is asked to contact police.