Shoreham houseboat sewage 'changes water colour', claims MP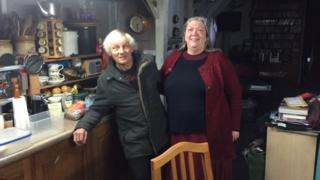 Sewage from houseboats is changing the colour of the water in a West Sussex harbour, an MP has claimed.
Conservative MP Tim Loughton told the Commons the problem was being caused by 40 houseboats at Shoreham not being connected to mains drainage.
He wants the boats to be connected as part of flood defence work due to take place.
The Environment Agency said it was aware of sewage issues and was talking to boat owners and the local council.
'Changes with tide'
"Shoreham has a flourishing houseboat community which adds to the colour of our town," Mr Loughton, MP for Worthing East and Shoreham, told the Commons.
"Alas it also adds to the colour of the water flowing into Shoreham Harbour until high tide washes it away, as few boats have sewage tanks or a link to drainage on the shore."
Houseboat residents Polly and Fred Cole, who have lived on the River Adur for 35 years, claimed they had been told it would cost each boat owner £20,000 to be connected to the sewer.
"The majority of the boats would probably be happier connected to the sewage [pipe] but it certainly doesn't change the colour of the river," said Mrs Cole.
"The river water changes colour every day with the state of the tide."
Mr Loughton said it was not desirable that raw sewage was going on to the mudflats and he was hoping grants might be available to cut the cost of connecting the houseboats.
He said the cost could be "a tenth" of the amount the houseboat owners feared.
The Environment Agency said potential solutions included providing an opportunity for houseboats to be connected to the network as part of its planned flood defence scheme.
"We are keeping Tim Loughton MP informed about these discussions," it said in a statement.
Tim MacPherson, who will contest Worthing East and Shoreham for Labour in May's general election said: "Our MP is famous locally for being clever with words - but not too sensitive to the people and the communities he's supposed to serve.
"It is this Tory Government that has been a disaster for the environment with our water and air getting dirtier and access to green space reducing."