D-Day veteran Bernard Jordan's war medals sold at auction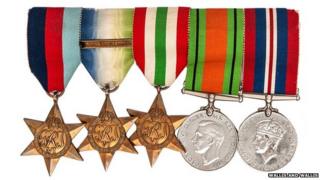 War medals belonging to the World War Two veteran who made headlines when he left his care home to attend French D-Day commemorations last summer have fetched £1,650 at auction.
Bernard Jordan, 90, died on 30 December - a week before his wife Irene died.
The medals, including a 1939-45 star, an Atlantic star with French and German clasp and an Italy star, went under the hammer in Lewes, East Sussex.
The lot, which also included a portrait of Mr Jordan, was sold for charity.
A coloured print of a Bob cartoon from The Sunday Telegraph, showing Mr Jordan on Steve McQueen's motorcycle featured in The Great Escape, was also included.
Items relating to Mr Jordan's trip to Normandy last June, including his Brittany Ferries return trip ticket confirmation printouts, were also sold, a spokesman for auctioneers Wallis and Wallis said.
The collection was bought by military collector Andrew Butler, 55, from Ramsgate, Kent, who will put it on display in his shop in Normandy.
"I'm very proud," said Mr Butler.
"It's something that will be displayed in the shop for tourists and collectors to see.
"Having the shop in Normandy, I saw (Mr Jordan's) story on the internet and in the papers. When I saw them come up, it was something I had to have for the display in the window."
Mr Jordan, a former mayor of Hove, sparked a police search when he left his care home in the city unannounced and travelled to the D-Day events in Normandy, wearing his war medals.
He joined British veterans, many making a final journey to visit the scene of the invasion and to commemorate their fallen comrades.
He was later made an honorary alderman of Brighton and Hove.
Mr Jordan and his 88-year-old wife left their £600,000 estate to the RNLI.