Attacks on women in West Sussex 'may be linked'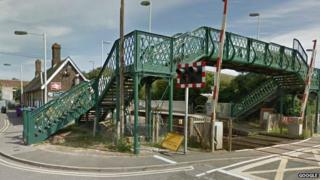 Three attacks on women in West Sussex may have been carried out by the same man, police have said.
On Thursday a woman was grabbed as she left public toilets in Ferring village hall. Later a woman was accosted after she agreed to help a man find his lost dog. Both women were unhurt.
On Friday an attempt was made to steal a 15-year-old girl's bag near Goring-by-Sea train station.
The attacker was a young man wearing a light grey or khaki waterproof jacket.
Det Con Natalie Freeman, of Sussex Police, said: "One line of enquiry we are following is that these incidents may be linked."
In the first attack in Ferring, the woman, aged 19, managed to break free and run to a nearby shop for help.
In the second attack which took place 10 minutes later, a 36-year-old woman accompanied by her 10-year-old daughter, was approached in Meadow Way and was asked by a youth to help him find his injured dog.
While travelling in her van to nearby Onslow Drive, he made sexual remarks and tried to accost her, but after removing him from the vehicle the woman locked herself and daughter inside and he made off.