Anti-Gatwick expansion groups deliver documents to Downing Street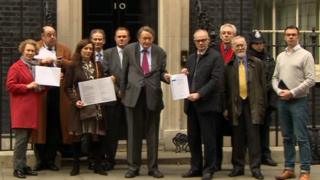 Groups opposed to Gatwick Airport expansion have delivered documents to Downing Street claiming it would have a "devastating impact".
Campaigners, who said they represented thousands of people in the South East, said a second runway would impact on previously unaffected rural areas.
Spokeswoman Sally Pavey said: "There would be benefits for Gatwick but none for us and none for the country."
The airport said the plan would deliver £90bn of economic benefits to the UK.
'Unbearable noise'
The campaigners, including representatives from environmental groups, residents' associations and parish councils in Kent, East and West Sussex and Surrey, have joined forces for the first time.
They were joined by Conservative MPs including Reigate MP Crispin Blunt, Arundel and South Downs MP Nick Herbert, Mid Sussex MP Sir Nicholas Soames.
The documents called on the government to recognise the level of political opposition to the expansion proposal in the local area and also asked the Airports Commission to fully assess its impact.
The groups urged the government to ensure the airport consulted openly with residents.
Airport expansion plan
The Airports Commission is currently considering three options for expanding airport provision in south-east England
These options are a third runway at Heathrow, lengthening an existing runway at that airport or a second runway at Gatwick
The commission is due to publish its findings in the summer
Ms Pavey said aircraft noise for local people was already bad enough.
"The concentration of aircraft noise is unbearable.
"With a second runway West Sussex will have five new routes over rural areas that have never been impacted before."
The airport said a second runway at Gatwick will deliver more economic benefits to the UK than expansion at Heathrow.
It will generate more air traffic and more connections to new destinations, Gatwick said.
The airport said an expansion would create about 120,000 jobs and will fund a £50m programme to enable local authorities to build community infrastructure.