Bognor Regis Birdman event 'could be cancelled again'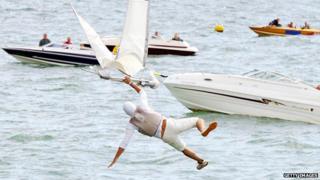 The Birdman competition in Bognor Regis could face cancellation for a second year running due to funding problems.
The event, which is due to take place on 18 and 19 July, needs an extra £5,000 to go ahead, its organiser has said.
A town council grant for the 2014 event, cancelled due to financial issues, could be used this year.
Organiser Barry Jones said: "Everybody wants Birdman and it's known throughout the world."
"It could be the end, if we cancelled last year and have to cancel this year that may be the finish of it, so we're desperate to keep it going," he said.
The event involves competitors, often in fancy dress or piloting elaborate flying machines, launching themselves off the end of Bognor's pier to see how far they can travel using human power alone.