Brighton charity in campaign for 'suicide-safer city'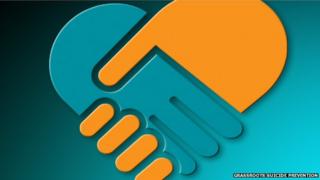 Employers in Brighton and Hove are to be trained in how to spot signs staff may be contemplating suicide in a drive to reduce high suicide rates.
The number of suicides in the city is higher than in other parts of the south east of England, according to the Grassroots Suicide Prevention charity.
Its survey found that more than a third of businesses in the city that responded had been affected by suicide.
It is campaigning to make Brighton and Hove a "suicide safer city".
Latest figures show the South East has the fifth-highest suicide rate in England, with Brighton and Hove's rate nearly twice as high as the rest of the region.
'Channels of communication'
The charity estimates that up to 40% of employees experience mental health problems in the workplace, such as depression, anxiety, and psychosis.
To try to reduce that number it is working to "open up the channels of communication" around suicide.
It is hoping to sign up 100 businesses in the city to receive suicide awareness training by World Suicide Prevention Day on 10 September.
Director Chris Brown said businesses were "uniquely placed to reach out to their staff and colleagues".
She said: "Most people who die by suicide are of working age and many will be in employment.
"Together we can help make our city safer from suicide."