St Leonards hammer attack suspect e-fit released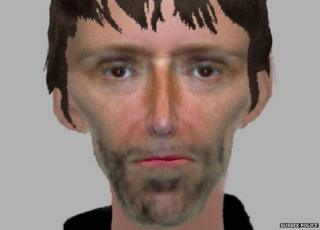 An e-fit image has been released of a man wanted in connection with a hammer attack in East Sussex.
A 26-year-old man was hit repeatedly with a hammer by a man who jumped out of bushes in Gillman's Hill, St Leonards, at about 17:00 GMT on Tuesday.
Police said it was an unprovoked and random attack which left the man with a cut to his head.
The attacker was aged about 40 and was slim with hunched over shoulders.