Brighton teenager pricked by hypodermic syringe on bus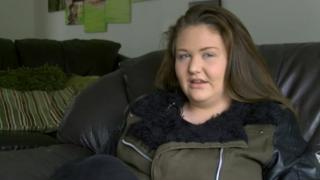 A teenager is awaiting blood test results after she was pricked by a hypodermic syringe left on a bus seat.
Francesca Palmer-Norris was pricked by what she thinks was a used needle while on the top deck of a bus in Brighton.
The 16-year-old, from Hollingbury, said the incident had left her fearful of travelling on buses.
Sussex Police said it was investigating what may be treated as assault. Bus bosses said the vehicle was taken out of service when the driver was alerted.
Ms Palmer-Norris was on a number 24 bus in Brighton when she "sat down and got a shooting sensation" in the back of her leg.
"It had obviously pierced my skin," she said.
"I turned round to my friend and said I think I've got a splinter or a bit of plastic or something, and then as I pulled it out I noticed it was a snapped needle."
She said it was about two inches in length and had almost completely entered her leg.
She removed it and told the driver before going to hospital where she underwent tests earlier this month.
Adrian Tullett, head of operations at Brighton and Hove Bus and Coach Company, said passengers were prevented from using the top deck of the bus as soon as the driver was alerted.
"He took the vehicle out of service for a full inspection as soon as was practically possible," he said.
Sussex Police said officers were studying CCTV recordings from cameras on board the bus to try to establish who had left the syringe on the seat.