Wakehurst Place parking fees see garden visits fall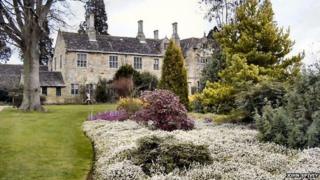 The number of people visiting Kew's country estate in West Sussex has nearly halved since the introduction of parking fees last April.
Visitor numbers reached 315,000 in 2013-14 but fell to 164,000 in 2014-15, after the charges were brought in.
The parking charges were brought in as measures to tackle a £1.4m deficit.
Director Andy Jackson said the shortfall remained about the same, but he said Wakehurst Place had been in "a year of transition".
He said year one had seen a reaction from visitors, but he added: "I'm heartened by how many people have come up to me and said 'well done' for keeping Wakehurst going in such tough financial conditions."
Kew had 50 more years to run at Wakehurst, and the attraction had to take "a 50-year view", he said.
National Trust members have free entry to the gardens, but have had to pay for parking since last year.
Nearly 1,900 National Trust members signed a petition calling for the parking charges to be dropped.
When the charges were brought in, Wakehurst Place said the decision was taken at the highest levels by both the National Trust and Royal Botanic Gardens, Kew.