Residents evacuated from Chichester Travelodge fire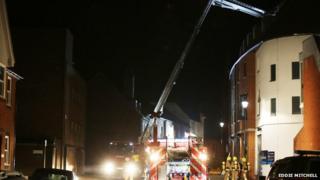 Residents had to be evacuated from a West Sussex Travelodge hotel after fire broke out behind a restaurant on the ground floor.
West Sussex Fire and Rescue Service said crews were called to the fire in Chapel Street, Chichester at 01:13 BST.
The fire, which started at the back of the Belle Isle restaurant, spread outside to the third floor and roof.
Hotel residents were evacuated first to the Dolphin and Anchor pub in Chichester, then Fontwell Travelodge.
A firefighter was taken to hospital for X-rays after he was injured by a falling roof tile but is not believed to be in a serious condition.
"Crews had to fight the fire from a number of sectors to surround and extinguish it, including a service ventilation shaft with difficult access," said fire service manager Gary Locker.
The blaze was out by 04:00 BST but firefighters remained to monitor the scene.