Councillor Joseph O'Riordan 'tracked and stabbed wife'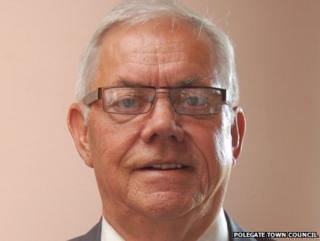 A town councillor tracked his wife's movements and monitored her email and phone messages, before stabbing her over an affair, a court has heard.
Amanda O'Riordan, 47, suffered multiple stab wounds at their home in Guardian Court, Brookside Avenue, Polegate, East Sussex, in October 2014.
She told the trial she fell after 73-year-old Joseph O'Riordan stabbed her in their bedroom with a kitchen knife.
Mr O'Riordan, a Polegate councillor at the time, denies attempted murder.
Giving evidence at Brighton Magistrates' Court - where the trial is being heard because of lack of space at Hove Crown Court - Mrs O'Riordan said she only found out later her husband was tracking her movements by GPS device.
'Pray recovery continues'
The jury was told her emails and instant messages to a man named as Nicholas Gunn had also been accessed.
Mr O'Riordan cried in court as a letter he had sent his wife while he was remanded in custody was read out.
In it he asked "Mandy" if she could pack him a suit and tie for the trial, "a decent jumper" because it had been "too cold to go out and exercise", his colostomy bag and other personal items including his Freemasons' bible.
The letter ended: "I hope and pray your recovery continues to progress. You will always remain in my heart. God bless, Joe.
"PS I assume your mum received my letter of apology and the Christmas card."
Mr O'Riordan previously admitted wounding with intent but it was not accepted by the prosecution.
Polegate Town Council said Mr O'Riordan was no longer a councillor because he had not been to a meeting since September, breaching their non-attendance rule.
The trial continues.