Chichester Travelodge fire started in tumble dryer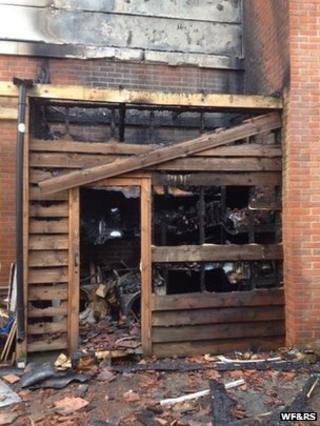 Laundry catching alight inside a tumble dryer started a fire at a West Sussex hotel, fire investigators have said.
Residents of the Travelodge in Chapel Street, Chichester, had to be evacuated from the hotel after the fire broke out at 01:13 BST on Monday.
West Sussex Fire and Rescue Service said the started in a utility area at the back of the Belle Isle restaurant on the ground floor.
Oil residue on tea towels and linen caused them to catch fire in the drier.
More than 50 firefighters were needed to tackle the fire, which spread to the third floor and roof of the hotel.
Self-combustion risk
Hotel residents were evacuated first to the Dolphin and Anchor pub in Chichester, then Fontwell Travelodge.
A firefighter was taken to hospital for X-rays after he was injured by a falling roof tile.
"The circumstances of this fire are unusual, but certainly not unheard of," said fire investigation officer Mark Hayter.
"If materials with oil residue are heated and then left in a tumble dryer, or are folded into piles or stacks before they are cool, there is a risk of self-combustion.
"It is really important to wash materials that have absorbed oil at a high temperature and to use the right detergent."