Burgled widow's stolen car found in Brighton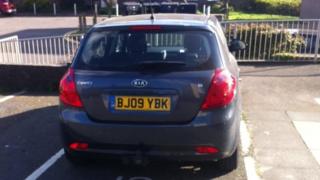 The stolen car of a widow whose home was ransacked by thieves on the day of her husband's funeral has been found by police.
Paula Palmer's Kia Ceed was found in Brighton on Wednesday.
It was stolen from her home in Barnett Road, in Brighton, on 17 April, along with thousands of pounds worth of cash and jewellery.
Mrs Palmer said the jewellery was given to her by her husband on their wedding day.
Sussex Police have appealed for witnesses who may have seen her stolen car, which was discovered in a car park at Wiltshire Court, off Lavender Street.
Det Con Richard Valder-Davis, of Brighton CID, said: "The car was found some considerable distance from where it was stolen.
"We are hoping that someone may have noticed it being driven in Brighton or saw it being parked."