Building under way for new Lydd SAR facilities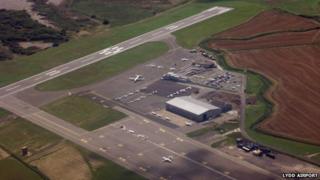 Work is under way at Lydd Airport in Kent on facilities for new search and rescue helicopter (SAR) services due to take over from the RAF on 1 July.
Chief executive Charles Buchanan said the new operation would employ about 30 crew, engineers and support staff.
Lydd has been given a one-year contract to host the service which was to have been run from Manston until it closed in May last year.
Bristow Group won a 10-year contract to run search and rescue in 2013.
Runway extension
The services moving to Kent are being relocated from RAF Wattisham in East Anglia.
Bristow is to replace ageing RAF and Royal Navy Sea King helicopters with Sikorsky S-92s and AgustaWestland 189s and operate from 10 locations around the UK.
Mr Buchanan told a meeting of Lydd Town Council on Monday the airport was also preparing to start building its runway extension at the end of this year.
Planning permission was approved in 2013.
"The planning permission contained a large number of conditions and requirements for us to satisfy to ensure that our development remains compatible with environmental concerns," said Mr Buchanan.
"We're fully committed to meeting our agreements on these points and working through these is the task in hand."
A new hangar is also being built, with construction expected to end in September.