Bexhill High Academy 'taken out of special measures'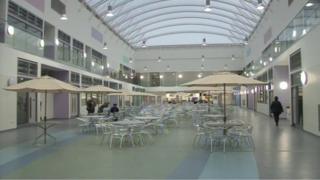 An academy given a damning Ofsted report two years ago and that needs a £6m redesign has been taken out of special measures, the school has said.
Heidi Brown, principal of Bexhill High Academy, said Ofsted inspectors had judged that it "requires improvement... on a journey to good or outstanding".
Ofsted said it would be several weeks before its report was published.
Last month it was announced the school was to be redesigned despite the building only being five years old.
Traditional classrooms back
Ofsted said the school, in East Sussex, was inspected on 29 April.
Ms Brown said inspectors said: "It's lovely to see a place that is going places."
The school became an academy in November 2012 but was placed in special measures just five months later.
The £6m redesign comes just five years after the £38m building opened, when the school moved from another site in the town.
It was initially run by Prospect Academies Trust, which closed a year ago.
New owner Attwood Academies is bringing back traditional classrooms after the head said the site's original layout of large open plan spaces was poorly designed and impeded student progress.