Crowlink Gap erosion risk coastguard station excavated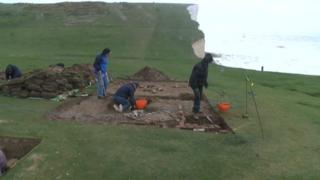 Archaeologists have been excavating the remains of an 19th Century cliff top coastguard station in East Sussex which are at risk of falling into the sea.
Experts and volunteers have unearthed walls and a fireplace, as well as bullets, buttons and clay pipes during the dig at Crowlink Gap.
The coastguard station opened in 1830s but it was abandoned 100 years later because of erosion.
It is feared its remains could be lost to the sea in the next 15 years.
The dig is part of the Seven Sisters Archaeology Project which aims to investigate and log settlements along the cliffs, dating back to the Neolithic period but which are at risk from coastal erosion.
The National Trust said the pottery from the excavations suggested the two cottages were occupied earlier than the 1830s.
Tom Dommett, of the National Trust, added: "Although the coast has since eroded backwards this [area] used to extend right down to the shore as a road and a pathway.
"It was very popular with the local smuggling community, particularly in the 18th and 19th Century."
The trust said a "particularly special find" was an almost complete 19th Century leather shoe that could have been part of a coastguard's uniform.
Bullets dating from 1941 and 1942 have also been recovered, which the trust said suggested Canadian troops, who trained in the area during World War Two, used the building for target practice.