Thousands of Hailsham homes lose water after mains burst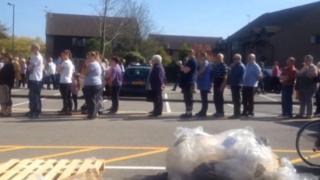 Thousands of homes were left without water after a mains pipe burst.
Residents in Hailsham and parts of Polegate and Eastbourne, in East Sussex, had their supplies cut early on Sunday morning.
South East Water said engineers worked through the night to repair the large water main on the A22 at Diplocks roundabout in Hailsham and the pipe was repaired by Monday lunchtime.
Supplies to about 4,500 Hailsham properties were earlier being restored.
Water supplies to parts of Eastbourne, Polegate and Sovereign Harbour were restored on Sunday.
'Major incident'
Incident manager Steve Andrews said the water main had be refilled slowly in order not to put too much pressure on the pipe too soon.
He added: "We also have a lot of water mains to refill.
"This means it will take time to get the taps running as normal."
Apologising for the length of time the repairs took, he said: "When the pipe burst it caused a great deal of flooding - up to waist deep in certain places - and we had to pump this water away before we were able to control the water flow in our network and reach the broken pipe.
"This has been a major incident for us and our priority remains getting water back to our customers as soon as possible."
Residents have been advised to run their cold kitchen tap slowly if they experience discolouration of their supply.
The water company also said there could be low pressure at first, as supplies were restored.
The northbound carriageway of the A22 Hailsham bypass was shut while repairs were carried out and bottled water was handed out to vulnerable residents.