Brighton bus named after escapee D-Day veteran Bernard Jordan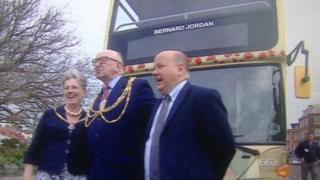 A bus has been named after a World War Two veteran who made headlines when he left his care home to attend D-Day commemorations in France.
Former navy officer Bernard Jordan sparked a police search when he sneaked out of his Hove nursing home in June.
Brighton and Hove's World War One Heritage Bus was renamed in his honour on Tuesday.
The bus firm said it was a fitting tribute to Mr Jordan, who died on 30 December.
Managing director of Brighton and Hove Bus and Coach Company, Martin Harris, added: "After Bernie Jordan sadly passed away earlier this year we received lots of requests to have a bus named in honour of him to recognise both his service to the local community and his courage during WW2 and throughout his life.
"We felt that it would be very fitting for the Brighton & Hove's WW1 Heritage Bus to carry his name, as this was the bus on which we escorted Bernie to the Mayor's Parlour last October to receive his Older People's Award for Courage."
Mr Jordan was reported missing to Sussex Police on 5 June after he left his Hove care home unannounced.
He was later found to have joined hundreds of other veterans in France at events marking the 70th anniversary of the D-Day landings on the beaches of Normandy.
He was made an honorary alderman of Brighton and Hove and described as a "living legend", by the Brighton and Hove Mayor Brian Fitch a month later.
Mr Jordan's widow Irene, 88 died a week after her husband. They left their £600,000 estate to the RNLI.
His medals, which included a 1939-45 star, an Atlantic star with French and German clasp and an Italy star, raised £1,650 for charity at auction in March.