Jimmy Savile: Sussex Police 'mishandled' sex abuse claim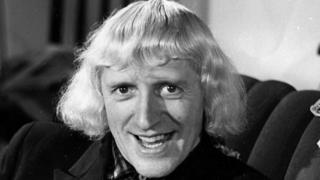 Sussex Police missed a chance to investigate Jimmy Savile in 2008 because it mishandled a sex abuse claim, the police watchdog has found.
The force did not send a trained female officer to visit a woman who had reported that Savile sexually assaulted her in Worthing in 1970.
The Independent Police Complaints Commission (IPCC) said "not all lines of enquiry were properly followed".
Sussex Police said its sexual offences investigations policy had been updated.
'Negative attitude'
The woman told officers on 3 March 2008 that Savile sexually assaulted her in a caravan in 1970 following a Chelsea Pensioners' event at Worthing Town Hall.
She did not report the attack to the police at the time but told her then husband, who wrote a letter to the TV presenter challenging him about the incident.
The alleged victim was encouraged to contact Sussex Police by a national newspaper journalist who she got in touch with after she watched a programme about Savile in 2008.
Sussex Police said the woman did not wish to give evidence in court and in the "absence of other corroborating evidence" supervising detectives decided to take no further action.
Sarah Green, deputy chair of the IPCC, said: "Greater efforts should have been made by police to investigate the allegation and to encourage the woman to support an investigation.
"She showed considerable courage in coming forward to police but regrettably she felt that the two officers who visited her had a negative attitude towards her pursuing her allegation."
The report said "while there was no evidence officers deliberately dissuaded the woman from pursuing her allegation, she felt reluctant to do so following contact with police".
The two male officers, a detective constable and a detective sergeant, who visited the woman were both experienced detectives but had not been separately trained as full-time sexual offence liaison officers.
Analysis by Danny Shaw, BBC home affairs correspondent
The failure to investigate properly the Sussex allegation is one of at least five potential opportunities to bring Jimmy Savile to justice before he died.
The Metropolitan Police recorded intelligence on Savile in 1964, received an anonymous letter in 1998 and spoke to an alleged victim four years later - but in each case, for different reasons, no action was taken.
In 2009, the Crown Prosecution Service said there wasn't enough evidence to charge the BBC presenter after an inquiry by Surrey Police.
That took place at about the same time as the Sussex investigation, which, according to the IPCC, was affected by the attitude of the male detectives involved.
The alleged victim, Mrs A, said the officers laughed and joked when they interviewed her and, in effect, put her off pursuing the allegation.
The interview took place in 2008 - not long ago, but long enough, it is to be hoped, to have brought about changes in the way police deal with sexual assault victims.
In a statement Sussex Police noted the IPCC agreed with its view that four officers who were served with misconduct notices over the 2008 Savile investigation had "no case to answer".
It continued: "Our current policy on the investigation of sexual offences, twice updated since 2008, now fully takes into account all the issues raised by the IPCC report."