Brighton Open Air Theatre's first performance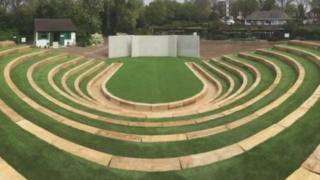 An open-air theatre that was the dream of a Brighton playwright who died of cancer is to open with a sell-out performance.
Before his death at the age of 47 from pancreatic cancer in May 2013, Adrian Bunting asked five friends to continue his dream of building an amphitheatre.
The Brighton Open Air Theatre will open with a performance of Romeo and Juliet later.
It was built on a former bowling green in Dyke Road Park.
Mr Bunting gave £18,000 of his own money to build the theatre.
Another £60,000 was raised by friends and supporters.
Mr Bunting won the Best Theatre award at the Brighton Festival in 2011, for his play Kemble Riot.
In an interview just before he died, he said: "The bowling green was always the place that I'd dreamed of [for the theatre] - it's a magical place."