'Least punctual' Brighton to London Victoria train is changed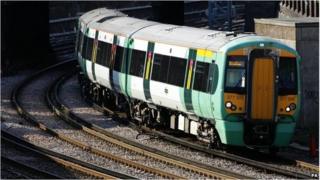 A rail company operating Britain's "least punctual train" has come up with a way of improving the service - by making it arrive later.
The 07:29 Brighton to London Victoria train service failed to arrive on time, at 08:35, on any of its 240 attempts in 2014.
Southern has now scheduled the train to arrive three minutes later and no longer stop at Wivelsfield station.
It has also cancelled some services altogether for the new timetable.
From Sunday the 06:56 service to Victoria will no longer run from Brighton but will start at Gatwick Airport station.
'Resigned to it'
Southern has also said the 18:32, which previously ran from Victoria to Brighton, will terminate at Gatwick.
Anna Roberts, who is a regular user of the 07:29 service, said: "Sometimes it's five minutes late, sometimes it's 10 minutes late.
"I think people are just resigned to it, really. I think people would be surprised if it arrived on time.
"There's sort of wry smiles among people when they make the announcements, so no-one expects it to be on time."
A Southern spokesman said: "This is not about one train. The new timetable includes hundreds of changes, all designed to improve performance across the whole of the Southern network.
"These changes will free up space to allow a more even spread of trains and make the timetable more resilient."