Alert as child escapes from Milton Mount Playgroup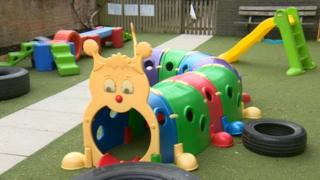 A three-year-old girl was found wandering alone after she climbed over a fence at her playgroup in Crawley.
Sussex Police said a woman found the child wandering around near the centre on Tuesday and alerted the force.
Officers went to Milton Mount Playgroup in Pound Hill and and explained a child had been found and staff then realised the girl was missing, police said.
She was reunited with her grandmother who had arrived to collect her and was unharmed, police said.
"Staff and the girl were spoken to and she told police she climbed over a 3ft (0.9m) fence to get out," the spokesman added.
He said the incident had been recorded.
'Licence suspended'
West Sussex County Council said Ofsted had been informed in the light of information from police.
A council spokeswoman added: "Our officers are offering advice and support to the playgroup to address concerns."
The playgroup has not yet released an official statement but committee chairwoman Lianne O'Connell told the BBC their licence had been suspended for six weeks.
An Ofsted spokesman confirmed the registration had been suspended while the matter was looked into, but said he could not comment on an ongoing investigation.
He said the usual timeframe for an investigation was six weeks but a suspension could be lifted earlier, depending on the nature of the incident, the outcomes of the investigation and whether the provider had put into action requirements needed.