Broadbridge Heath campaigners 'sad' as 165 homes approved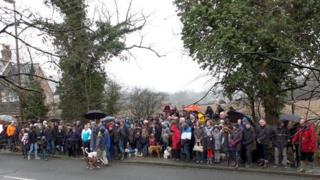 Campaigners said they were "very sad" after permission was granted for 165 houses and a 60-bed care home on farmland in West Sussex.
Developer Gleeson won an appeal against Horsham District Council's refusal to grant permission for the development north of Broadbridge Heath.
Inspector Michael Hetherington said the site did not provide clear countryside gap between Horsham and the village.
Gleeson Strategic Land said the scheme addressed a desperate housing need.
'Cherished area'
About 130 people protested against the plans before the planning inquiry in March.
"We've now lost another cherished area of the village which was open space," said Jonathan England, vice chairman of Broadbridge Heath Parish Council.
"It is probably the last piece of green field that could be developed in the whole of the parish so we are very sad about that.
"There are 1,000 houses being built in the south of our village and to have further development seems to be totally unfair."
Mr Hetherington said the visual impact and environment harm of the new homes would not outweigh the benefits of addressing the housing shortfall.