Adur and Worthing bin lorry cameras could film traffic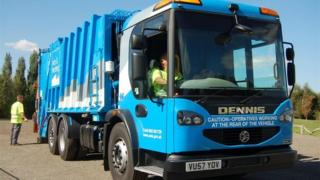 Cameras on waste collection lorries could be used to film traffic in a bid to tackle impatient drivers.
Adur and Worthing councils said "bullying" drivers had caused several incidents in recent weeks.
In one incident, operatives had to jump out of the way after a driver drove on a pavement to get past a truck.
Anyone believed to be breaking the law would be reported to Sussex Police. Cameras are currently used to film wrongly-placed or over-filled bins.
Adur councillor Keith Dollemore said the present bin collection system was fast and clean and caused minimum delay to drivers.
He added: "There really is no excuse for impatience."
Both councils said cameras installed on waste collection vehicles meant any incidents could easily be reviewed.
In a joint statement, they said: "Both councils take the welfare of all employees very seriously and would not hesitate to report dangerous incidents to Sussex Police to be dealt with appropriately."