Disgraced bishop's supporters hold vigil outside Chichester Cathedral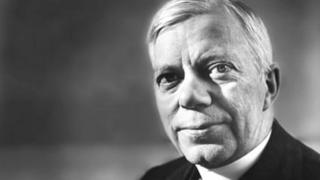 Supporters of a disgraced bishop have held a vigil in Chichester as they attempt to restore his reputation.
The Church of England settled a civil claim made by a woman who said she was abused by the Rt Rev George Bell in the 1940s and 50s.
His supporters say he was branded a paedophile on the strength of a single, uncorroborated allegation.
But the Diocese of Chichester said it found "no reason to doubt the veracity of the claim".
Supporters are calling for the abuse investigation be reopened and the evidence re-examined.
'Thorough investigation'
The Rt Rev George Bell was Bishop of Chichester from 1929 until his death in 1958.
In wartime Britain, the Bishop warned against appeasement, helped Jewish people escape the Nazis and spoke out against saturation bombing, which killed many civilians.
The woman at the centre of the claim recently spoke out, telling the BBC: "He might have been a hero, but heroes don't always do good things."
The Church, which paid compensation and apologised to the woman following the settlement, said the decision to do so "was not taken lightly or without consideration of the impact on the reputation of George Bell".
The Archbishop of Canterbury Justin Welby said: "Someone came forward who said that they had been abused, and on the balance of probability, at this distance, it seemed clear to us, after very thorough investigation, that that was correct."
But his supporters say her claim is a "single, uncorroborated allegation made 37 years after he died by a person who remains anonymous".
Vigil organiser Richard Symonds said: "We do not seek divisive confrontation. We seek to encourage the Church of England/Diocese of Chichester to abide by the spirit of the law, especially relating to the principles of 'due process', 'natural justice' and 'presumption of innocence'."