Palm oil deposits washed up on Sussex beaches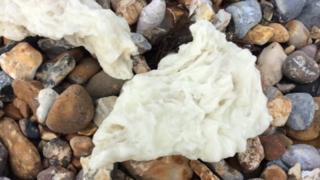 Large blocks of congealed palm oil have been washed up on Sussex beaches.
Signs warning of a risk to dogs and children have been put up along the coast between Brighton and Worthing.
The non-toxic waxy, white deposits - the size of small boulders - can smell rotten and can make pets ill if eaten.
Seafront cleaning teams have been on the beaches disposing of the substance, which though released legally by ships at sea can become contaminated with other waste products.
The Veterinary Poisons Information Service said dogs could suffer vomiting and diarrhoea, which could then lead to dehydration.
Any person coming into contact with the substance is advised to wash it off with soap or shower gel and also wash their clothes.