American mother given 30 months longer to remain in UK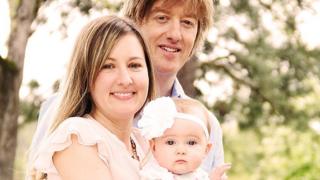 An American mother, who had been facing deportation from the UK, has been given 30 months longer to remain.
The Home Office had refused a visa for Katy James as her British husband Dominic, a self-employed bike dealer, earns less than £18,600 per year.
Immigration Minister James Brokenshire has now reversed the decision after a campaign by the local MP and a petition signed by more than 4,600 people.
Mrs James said she was "so relieved" and had "been through so much".
She said she had been ordered to leave by 16 April, leaving her daughter and husband in the UK.
Mrs James was granted a six-month visa when she returned to the UK last October.
Their daughter, Madeleine, aged two, was born in the US.
Income threshold
The couple, who married in 2006 and live in Eastbourne, said they were victims of a rule change in 2012 which requires British citizens with non-EU spouses to prove an income of at least £18,600.
Legal commentator Joshua Rozenberg said the purpose of the income threshold was to prevent non-Europeans marrying into the UK and becoming a burden on the taxpayer.
Mrs James said she would campaign to change "this unfair rule" as they would have to apply again in two and a half years.
"There are up to 15,000 children (of British families) still affected by this law and we hope this decision will get some changes," she told BBC Sussex.
Eastbourne MP Caroline Ansell said: "I accept the timeframe is not the long-term security the family needs and this is a wider principle I will take up with the minister, who I thank for his hard work."