Brighton beach subway to shut all summer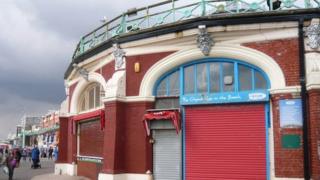 A subway leading to Brighton beach is to be closed all summer as part of work to stop the seafront road collapsing.
Brighton and Hove City Council said the subway under the A259 from West Street would be closed at the end of May for four to five months.
It will be replaced by two temporary pedestrian crossings near West Street.
A £10m project to replace West Street Shelter Hall, part of the King's Road Arches, is under way after part of the A259 fell in two years ago.
The roof of the Fortune of War pub collapsed, causing a large depression in the King's Road.
The council said closing the subway, a main link for day-trippers between the beach and Brighton mainline station, was unavoidable.
The adjacent Shelter Hall, which helps support the road, will be demolished starting in June and rebuilt a few metres nearer the sea.
"We have been meeting traders to make sure we know what they need to help minimise any disruption," said Councillor Gill Mitchell.