Gatwick Express drivers back longer train dispute strike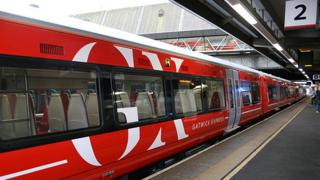 Train drivers have voted to strike in a dispute over the introduction of longer Gatwick Express trains.
Aslef union members, who oppose the introduction of 12-car trains without guards, backed plans to walk out by more than four votes to one.
Govia Thameslink Railway (GTR) wants to replace 50% of its existing 10-carriage rolling stock by June.
The train operator is seeking an injunction against the union's ballot in the High Court.
Aslef said 84.4% of the 1,006 members who voted backed a strike and 95.8% were in favour of action short of a strike, on a turn out of 82%.
'Result disappointing'
General secretary Mick Whelan said GTR Southern and Gatwick Express members had voted "overwhelmingly" in favour of taking action.
A spokesman for GTR said the result was "disappointing" and it was awaiting details of Aslef's strike plans.
He added: "We have repeatedly tried to engage with Aslef on this but the union has refused to engage in any sort of meaningful dialogue. We urge them once more to sit down and talk to us.
"In the meantime, we have sought an injunction from the High Court against any industrial action that may result from this ballot."
He claimed the union could not ask drivers to "lawfully" take industrial action because it had selected which drivers it had balloted and "induced drivers to refuse to drive trains in advance" of a ballot.