Newhaven-Dieppe ferry 'to continue' for four years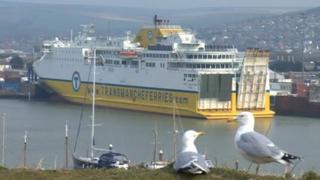 A new four-year contract to operate a cross-Channel ferry route will begin in August, according to Lewes MP Maria Caulfield.
The service between Newhaven and Dieppe has been in doubt since a French court ruled it had to be put out to tender.
Ms Caulfield said the French authorities had received at least one bid to run it and promised an annual subsidy of €20m (£15.3m).
Current operator DFDS declined to confirm whether it had reapplied.
The Danish shipping firm operates the contract for Syndicat Mixte de Promotion de L'Activité Transmanche.
Ms Caulfield led a delegation from East Sussex at a "crucial" public meeting in Dieppe on Monday evening, organised by Transmanche User Group (TUG).
Peter Barker, a member of TUG, told BBC Sussex: "There was a lot of excitement and determination for people who had seen the possibility of the line closing."
Ms Caulfield said despite passenger numbers "rising 50% last year", there had been a "real worry" no operator would come forward and the service would fold.
Passenger ferry services between Newhaven and Dieppe began in the 1850s but there have been concerns about their long-term viability for several years.
The current contract was ended by a French court in January following a long-running investigation by the Competition and Markets Authority into Eurotunnel's acquisition of Sea France assets.