Brighton's Madeira Terrace restoration 'simple', Victorian Society says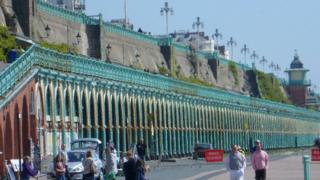 Crumbling seafront arches in Brighton should not be demolished as restoration would be "comparatively simple", a preservation charity has said.
Brighton and Hove City Council said the cast iron Madeira Terraces would need to be knocked down and rebuilt at a cost of £30m.
However, a team of structural engineers commissioned by the Victorian Society has said the arches can be repaired.
The council said it had carried out a "full structural investigation".
The arches were fenced off by the council last summer over fears they could collapse.
'Rush into decisions'
The Victorian Society asked the Morton Partnership, which specialises in restoration work on historic buildings, to make a preliminary assessment and found restoration was "likely to be simpler than the council had initially feared".
The society's conservation adviser, Alex Bowring, said: "We urge the council to commission a new full structural survey from a firm with proven historic buildings experience.
"Madeira Terrace is too an important Brighton landmark to rush into decisions about its future."
The council said it was "currently exploring" how to fund the project and maintain the terraces "into the next century" and would report back on its findings later in the summer.