Coperforma patient transport delays: GMB stage protest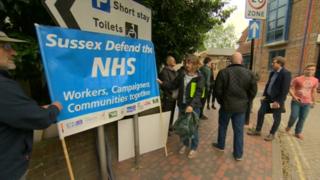 Protesters are staging a 24-hour demonstration calling for an end to a controversial patient transport contract in Sussex.
Private firm Coperforma took over hospital transport on 1 April, but eight days later an investigation was launched when several patients' appointments were missed.
A protest is taking place outside health commissioners' offices in Lewes.
NHS commissioners and Coperforma said issues were being dealt with.
Gary Palmer, from the GMB union said about 15 protesters gathered at midday, along with a group of renal dialysis patients.
He said more protesters were expected to join the demonstration in the evening and campaigners would camp outside the NHS commissioners' offices.
Health commissioners had refused to meet with concerned groups and had not taken responsibility for the "fiasco", he added.
The union is calling for the removal of Coperforma from the contract.
High Weald Clinical Commissioning Group (CCG) said the contract had been procured by all CCGs across Sussex.
In a statement, it said: "All seven Sussex CCGs are working closely with Coperforma and hospital trusts to address the issues still facing the transport service."
The statement said a plan was in place including a board to oversee performance, risks and operational issues.
A spokeswoman for Coperforma said: "It is regrettable that the GMB has chosen to commit to this demonstration at a time when everyone concerned with the delivery of the service is working collaboratively to address the challenges that remain."
Coperforma said the GMB had declined to take part in discussions on union recognition before the 1 April handover, and Unison had been appointed as the recognised union.
Stephanie Cesana, from Unison, said the CCG had been forced to outsource public sector work to the private sector.
She said: "Contracts such as this should be run as a public service, for the benefit of the public, not as a private company whose main interest is profit."