Brighton demo arrests: 14 suspects in custody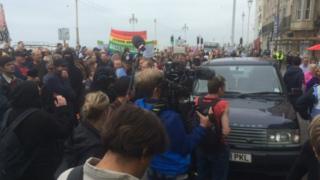 A total of 14 people were arrested after police received reports of assault and criminal damage involving a large group of masked men in Brighton.
Sussex Police said 12 arrests were made in connection with an anti-immigration demonstration in Ship Street at 09:27 BST on Saturday, with two more later.
They were originally held on suspicion of breach of peace but were rearrested on suspicion of violent disorder.
A spokesman said they remain in police custody at this stage.
Skinhead reunion
Later, a pro-refugee demonstration involving between 300 and 400 people met at Brighton station and marched to the seafront. Police said it finished at Brighton railway station at about 12:30.
Anti-fascists also confronted a group on the seafront who were attending a Great Skinhead Reunion.
Police said officers continued to monitor a number of protesters who remained in the city after the majority had left, who dispersed in small groups throughout the afternoon.
Police said on Thursday they were aware of demonstrations being advertised on social media but no group had notified them of the event.