More delays possible after Gatwick closure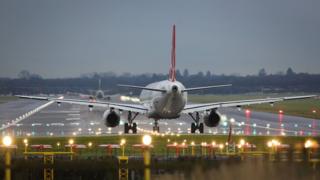 Passengers have been advised to check for possible delays before travelling after Gatwick airport closed its main runway following claims the surface started to break up.
The airport said it was returning to normal but there were some minor knock-on delays following Sunday afternoon's one-hour closure from 15:48 BST.
Some flights are being re-accommodated in Monday's schedule.
Flights were stopped while repairs were carried out to the runway.
They later resumed but evening flights were affected.
Disruption
The damage to the runway was discovered during a routine inspection.
Operations were switched to the northern runway to keep flights departing and arriving, but 17 flights had to be diverted to other airports.
The airport has apologised for the disruption.
Aviation expert Phil Butterworth-Hayes said Gatwick's main runway, one of the most heavily used in the world, was resurfaced in 2012.
He said the northern runway was a spare.
"It doesn't have all the landing lights and all the landing aids that the main one does but you certainly can use it," he said.