Hove plinth crowdfunding raises £12,000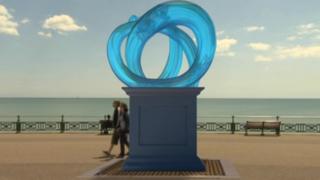 A crowdfunding campaign to raise money for a plinth on Hove seafront to showcase public sculptures has closed after bringing in pledges of £12,000.
Hove Civic Society said it now had a total of £77,000 towards the £100,000 needed to install the seafront plinth.
Three designs have been chosen to be displayed for 18 months each when the plinth is in place on King's Esplanade.
"We will be back to resume the ongoing funding raising effort after a summer break," said spokeswoman Karin Janzon.
"We are in a good place to close the remaining gap in resources and to move ahead on securing sponsorship for sculptures," she said.
The Hove Plinth, at the south end of Grand Avenue, opposite the statue of Queen Victoria, was inspired by the Fourth Plinth in London's Trafalgar Square.
The site will also provide a platform for short-term displays, performances and events in collaboration with local organisations and schools.
The first three sculptures chosen are Escape by Matthew James Davis, Flight of the Langoustines by Pierre Diamantopoulo and Constellation by Jonathan Wright.
Hove Civic Society said more than 100 people pledged donations during the crowdfunding campaign.