Rampion wind farm: Offshore piling work wakes residents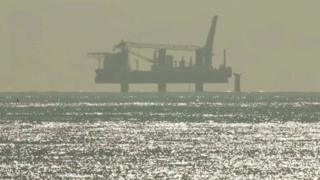 Energy firm E.On has received dozens of complaints from people woken up by overnight construction work on a wind farm off the south coast.
Foundations for 30 out of 116 turbines for Rampion wind farm are done with work is expected to last till November.
Residents on a 20-mile stretch from Rustington to Brighton reported being kept awake for four hours on Tuesday.
E.On said warm weather and calm seas may have made the noise more noticeable.
Rustington resident Susan Bliss said she and her husband John were woken by a loud thumping noise just after midnight.
"It was continual thumping of drills going down into the sea," she said.
"Some neighbours walls were shaking it was so noisy and close."
Brighton resident Paul Sheppherd said vibrations could be felt in the city.
"When I looked out to sea I could see the whole thing lit up like a Christmas tree," he said
Arun councillor James Walsh said several constituents had contacted him.
"If this is a one-off I can accept that. If it's going to go on, there should be a night-time ban," he said.
"We have a reasonable expectation of a good night's sleep."
E.On said the noise came from piling activity on the turbine foundations eight miles offshore.
"We have been piling since February and are now working to investigate the reasons why the sound was an issue when it hasn't been particularly noticeable to date," a spokesman said.
"There may be occasions when the activities are audible.
"This depends on a number of factors including weather, background ambient noise level, the size of the pile and nature of the seabed.
"We are sorry for any inconvenience caused and will monitor the situation over the coming weeks."