Deportation unit near Gatwick to close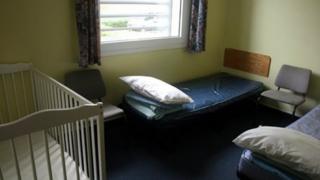 A special secure unit designed to hold families before deportation is to be closed after an independent review found it was barely used.
The Cedars unit, near Gatwick Airport, reportedly cost £6.4m to operate last year, but housed just 14 families.
It was set up in 2011 under the coalition government but the review found this was a "misdirection of public money".
It will be replaced by a more "cost-effective" accommodation unit.
In a written statement to Parliament, immigration minister Robert Goodwill said the "discrete unit" would be at the nearby Tinsley House immigration removal centre.
'Retrograde step'
He wrote that Cedars had only ever been intended to be "used as a last resort after all voluntary or other return options have failed".
He claimed its "low level of use" was a "testament to the overall success of the family returns process and, in particular, to the fact that more families are accepting voluntary assistance to leave the UK".
The closure of the facility was recommended in January in the review, by former prisons ombudsman Stephen Shaw.
He said detaining each family at Cedars had cost "many tens of thousands of pounds" but "up to half are actually released rather than being removed".
"The current use of the centre is simply unacceptable at a time of financial austerity."
The decision was condemned by Refugee Council policy manager Judith Dennis, who said: "The government's current practice of detaining children - the majority of whom are later released - is harmful, largely ineffective and inexcusable.
"The transfer of children and their families from Cedars to Tinsley House, a place even less equipped to care for them adequately, is a troubling retrograde step."