Parents fight on to save Pells Primary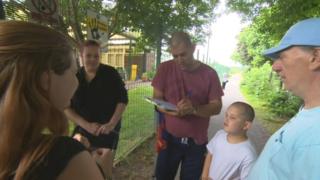 Parents at an East Sussex primary school who say they are devastated it will be closed next year have vowed to fight on to try to save it.
Nearly 100 pupils will be affected by the decision to close Pells Church of England Primary in Lewes.
Parents who have already raised a 5,000-signature petition have started collecting signatures for a second petition to take to Downing Street.
The county council said many parents chose to send their children elsewhere.
Pells was one of two schools in Lewes considered for closure.
The other, Rodmell, was given a reprieve on Tuesday to explore a possible partnership with Iford and Kingston Church of England Primary.
Mother-of-three Emily Wiles said Pells school was important for the Landport area.
"Everyone at that school is more like a family," she said.
"It is small, and that's what makes it different."
Stuart Gallimore, East Sussex director of children's services, said the parents of more than 160 children who lived nearby and could go to Pells sent them off the estate.
"The fundamental issue is that it is a school that is not popular with parents," he said.