Lost fisherman Darren Brown's family plans memorial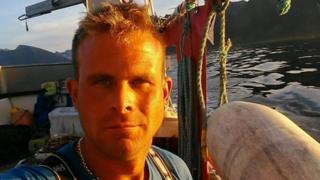 Relatives of a fisherman lost at sea are raising funds for a memorial plaque as his body has still not been found six weeks on.
Darren Brown, 39, from Newhaven, East Sussex, fell overboard in French waters on 9 June.
A search by lifeboats and a coastguard helicopter was called off over eight hours later.
His brother, Mark Brown, spoke of the need for closure: "You just want to get him home so you can lay him to rest."
Darren's girlfriend Adele Holmes said losing him had been a "huge shock" which had left "a huge hole" in her life.
Darren's boat was about 30 miles south of Newhaven when a rope became tangled up in a propeller. He dived in to try to free it but was swept away by the current.
His brother said: "You have this glimmer of hope to start with and you think he is going to turn up. If anyone can survive a few hours at sea it is him - he was strong, fit.
"Then, as time goes on, you get to the point where you just want to get him home so you can lay him to rest."
He said his brother lived for the sea and had a "heart of gold".
Mark and Adele are now raising money for fishermen's charities and to put up a plaque in Darren's memory.
Adele said: "We don't have Darren to bury but it will be a special place for us and for everyone to come and pay their respects."