Seaford Head teacher Rosalind Ramsey struck off for kissing pupil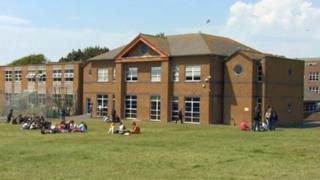 A teacher who kissed a 16-year-old pupil and had sexual contact with him in her car has been struck off.
Rosalind Ramsey, former head of science at Seaford Head School, East Sussex, was found to have had an inappropriate relationship with the teenager.
The professional conduct panel of the National College for Teaching and Leadership said Ms Ramsey instigated Facebook contact with the pupil.
It said she exchanged messages with him and met him three times out of school.
A report by the panel said Ms Ramsey drove the boy around in her car, as well as kissing and participating in sexual contact with him in the vehicle.
She also uploaded pictures of pupils from the school prom on to her Facebook page, it said.
Admitted allegations
Ms Ramsey, described as a "person of previous good character", was on the school's staff between September 2000 and January 2015, and was not present for the hearing.
The report states that although she admitted the allegations, she said the kissing and sexual contact with the student were "contrary to her express will".
The panel ruled against her, saying the pupil gave a more credible account of the circumstances, revealing in evidence he thought it was a relationship.
The panel said Ms Ramsey "fell significantly short of the standards expected of the profession" and recommended she be prohibited from being a teacher.
Alan Meyrick, on behalf of the secretary of state, supported the panel's decision.
"Ms Rosalind Ramsey is prohibited from teaching indefinitely," he said.
"Furthermore, in view of the seriousness of the allegations found proved against her, I have decided that Ms Rosalind Ramsey shall not be entitled to apply for restoration of her eligibility to teach."