Newhaven teen wheelchair user refused Blue Badge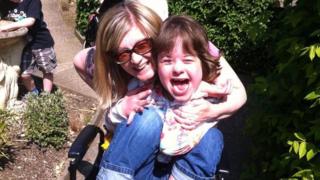 A 17-year-old girl with Down's syndrome has been told she no longer qualifies for a Blue Badge for disabled parking despite using a wheelchair.
Lucy Ripley, who also has autism and severe learning difficulties, was eligible for a blue badge under the old Disability Living Allowance (DLA).
But she has since been told she no longer qualifies under its replacement, Personal Independence Payment (PIP).
East Sussex County Council said the family can appeal against the decision.
Lucy's sister, Samantha Ripley, said the blue badge was withdrawn after PIP replaced Lucy's DLA.
"She went for assessment but it doesn't seem like the process was correct for her," said Ms Ripley.
"It didn't take into account people's mental capacity or their awareness of surroundings or dangers.
"It didn't take into account the assistance someone may need to walk independently."
The family, from Newhaven, is exercising the option to appeal within 28 days and has received written support from Lucy's GP.
"It is so important for people with disabilities to be able to go out and be included in society," said Ms Ripley.
"Mobilising a 17-year-old girl out of the car and into a wheelchair in a normal parking space is really difficult.
"A lot of people will accept this and then suffer from isolation from their local community.
"That is a massive step back in society - we should be moving towards equality and social inclusion."
The county council said anyone applying for a blue badge was assessed in accordance with national guidelines issued by the Department for Transport.
"Anyone, adult or child, with proven substantial difficulty walking will be eligible," it said in a statement.
"We would encourage the family to contact us if they feel they have been unfairly treated."