Sussex hospital transport firm Coperforma 'had no plan B'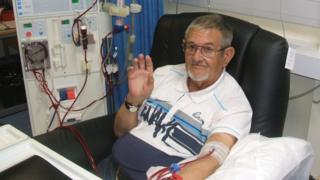 Mistakes and missed opportunities led to problems when a private firm took over non-emergency hospital patient transport in Sussex, a report said.
Private firm Coperforma took over hospital transport on 1 April but appointments were missed immediately.
The report, commissioned by the NHS, said there had been "no plan B" to address the problems.
Clinical commissioners apologised and said they were working with Coperforma to deal with the issues.
Wendy Carberry, of NHS High Weald Lewes Havens Clinical Commissioning Group, said: "On behalf of Sussex CCGs I would like to apologise again to patients and to trusts for the problems with the patient transport.
"We are working very hard with Coperforma to address these issues and the vast majority of patients are now getting to and from their appointments on time.
"However, we know there are still problems in parts of Sussex."
Analysis: Ben Weisz, BBC Sussex political reporter
A combination of factors coalesced to cause the chaos back in April, where transport for hundreds of patients was delayed.
The report's authors saw no evidence Coperforma had adequately stress-tested its systems, it hadn't prepared for a tight handover of staff from the old provider and didn't alert the CCG to problems putting patients' details into its databases.
For its part, the CCG which "hired" Coperforma to run the service did not have a "plan B" for when things went wrong.
In future, the report says big healthcare contracts should be implemented in stages, rather than all at once.
Coperforma took over the contract from the South East Coast Ambulance Service at the beginning of April.
The report said: "Without a period of parallel running prior to the contract start date the potential impact on service delivery... would not have been so evident in the immediate run up to the contract start date.
"The Sussex CCGs may wish to consider requiring more tangible evidence of preparedness from providers rather than accepting written and verbal assurances."