Three-year-old boy hit by ambulance in Littlehampton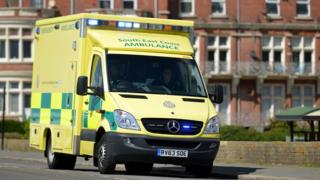 A three-year-old boy has been taken to hospital after being hit by an ambulance responding to a call.
South East Coast Ambulance said the boy was treated then taken to Worthing Hospital for further checks. He is not thought to be seriously hurt.
The accident happened about 10:40 BST in Horsham Road, Littlehampton.
The ambulance service said it was liaising with the child's family and working with Sussex Police to establish the full circumstances of the accident.
A spokesman said the collision happened in the road and the ambulance did not mount the pavement.
The investigation would look at whether the ambulance had its blue lights on.
'Extremely distressed'
Another ambulance was sent to the scene and treated the boy, who is expected to released from hospital later.
"Our thoughts are with everyone involved, who are obviously extremely distressed," a spokesman said.
The vehicle involved in the accident returned to base where its crew was questioned.