Alert over escaped dog in Bexhill after it attacked a police officer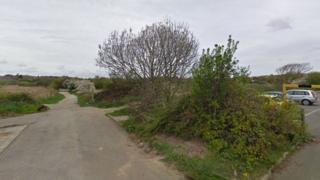 An alert has been issued about an escaped dog which bit a police officer's arm in East Sussex.
It was one of two Staffordshire Bull Terrier cross-breeds found abandoned with four puppies in Bexhill-on-Sea.
Police said it "proved hard to catch" but was cornered and "in its fearful state" wounded the officer, who needed hospital treatment.
The dog ran off into fields near Lewis Avenue and the public were warned not to try to seize it.
The pups were taken to a local veterinary clinic and the other dog was handed to a council warden.
Sgt Graeme McKee said: "We don't believe this dog to be aggressive unless cornered, when it may bite in self-defence.
"Anyone seeing this dog should not try to seize it but instead contact police or the council so that it can be safely taken into kennels," he added.