Selfie warning amid Seaford Head cliffs danger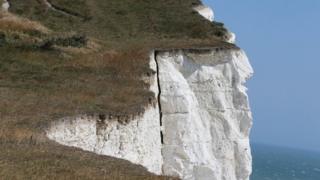 Walkers have been warned not to pose for risky selfies at cliffs in East Sussex where a "potentially dangerous" crack has been found.
The UK Coastguard has issued the warning to avoid Seaford Head, which has seen several collapses in recent months.
It is believed an existing crack has worsened because of recent changes in the weather.
An area has been cordoned off along the coastal path close to the site.
Maritime Commander Mark Rodway said beachgoers and walkers were being warned to exercise caution and keep away from the area.
"The cliffs along the UK coastline are continually eroding and we've seen a number of cliff collapses in recent months at Seaford," he said.
"It's impossible to predict when the next piece might fall or how big it will be.
"It's very clear that cliffs are unstable in places and we really can't stress enough how important it is to keep back from the edge. There is no 'safe' place to be."
Mr Rodway said one of the main dangers was people posing for selfies next to the cliffs.
"People take great risks to get a dramatic photograph of themselves on a dangerous cliff edge - no selfie is worth risking your life for," he said.
A spokesperson for Eastbourne Borough Council and Lewes District Council said members of the public should always take notice of warning signs.
"Being the gateway to the South Downs National Park we have some of the most beautiful landscapes in the country, but as with all natural or wild environments it is important to take care.
"Members of the public should stay a safe distance away from the cliff edge and away from the cliff face when on the beach beneath."