Christmas Day murder report criticises Sussex NHS trust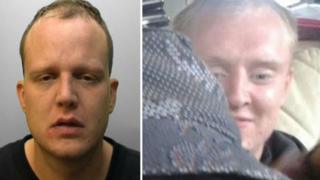 A mental health trust has accepted it must improve after being criticised over a murder on Christmas Day 2014.
An independent report into NHS care given to Oliver Parsons, who killed Joe Lewis, made 14 recommendations - 12 for Sussex Partnership NHS trust.
But it said the Brighton murder "could not have been predicted or prevented".
Jason Lewis, father of Joe, branded the report "farcical". He said Parsons had suffered mental health problems since 1991 and the system "failed him".
The trust has been criticised in the past over the high-profile Don Lock stabbing, which led to an independent review of 10 killings in eight years.
Dr Rick Fraser, chief medical officer at Sussex Partnership NHS, offered condolences to Mr Lewis's family and said the report would be difficult for both families.
"This was a tragic case that has devastated two families and we accept all the recommendations made," he said.
Jason Lewis said: "Most men would be angry that their son has been murdered.
"But I see this guy as a genuine person that's got a mental health problem, and they have set him up to fail.
"They have cut him loose and they have allowed him to become a murderer, when actually he was just somebody with severe mental health problems that needed to be taken off the street and given treatment for a serious amount of time.
"I think they failed him."
Known trigger
The report, referring to Parsons as Mr H, said he had mental disorders dating back to 1991.
He had been sectioned on numerous occasions and had frequently attended A&E.
The report said Christmas was known to be a trigger for his schizoaffective disorder.
On Christmas Eve, he was with Mr Lewis at the home of a mutual friend where all three took a legal high, drank 18 cans of lager, and shared a bottle of vodka.
In the early hours, a row turned into a scuffle and ended in the stabbing of Mr Lewis, from Rustington.
The report said: "It is our view that this tragic homicide could not have been predicted or prevented.
"However, we consider that there are actions that could have been taken that would have minimised the risk."
It said there had been an "overarching theme of a lack of adherence to systems and processes".
Recommendations included staff comply with policy on carrying out post-discharge appointments, sharing paperwork, providing information about early warning signs of relapse, justifying changes to medication and carrying out appropriate risk assessments.
Of the 14 recommendations, 12 related specifically to the trust. Two looked at information sharing and compliance by other health organisations.