Gatwick Express services cancelled in case of leaves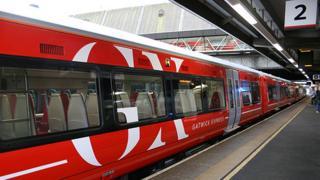 More than 30 Gatwick Express train services between London and the airport are to be cancelled daily because of the possibility of leaves on the line.
The company said it was "inline with the rest of the industry". Southern is making no changes to services on the same route between London and Brighton.
The 33 cancellations will affect weekday services between 05:30 and 22:30.
The revised timetable will be in force between Monday and 8 December.
There will be no overnight trains during the same period. the rail company has also announced.
On its website, the company said it was introducing the special timetable for the first time so that "in line with the rest of the industry, Gatwick Express is taking steps to manage the effect of the leaf fall season rail conditions on passenger services".
It added: "The changes detailed below will help to reduce congestion and reactionary delays to Gatwick Express and other services on the Brighton Mainline."
Gatwick Express said the overnight cancellations would allow Network Rail to carry out engineering work. Southern and Thameslink services will continue to run throughout the night.