Shoreham air show crash: Prosecutors consider charges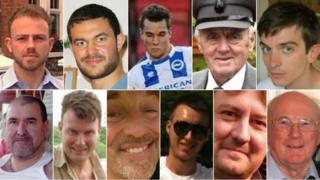 Prosecutors have been given a complete case file on the Shoreham air disaster and will now decide if criminal charges are to be brought, the West Sussex coroner has announced.
A Hawker Hunter jet crashed on the A27 on 22 August 2015 killing 11 men.
The pilot Andy Hill, who was carrying out an aerobatic manoeuvre at the time, was among 13 others who were injured.
The lawyer acting for most of the families said it was an "important step" in helping them get answers.
Coroner Penelope Schofield has written to all the families to notify them of the latest development.
Ms Schofield said: "The full file is now with the CPS [Crown Prosecution Service], and Sussex Police await a CPS decision as to whether or not any criminal charges are to be brought.
"A further update will be provided at the next pre-inquest review, scheduled for 24 January."
The full inquest is scheduled to take place in September, but this may be suspended if charges are brought, the coroner said.
In March, the Air Accidents Investigation Branch (AAIB) listed a series of failings which led to the crash, including the pilot flying too low during the manoeuvre.
James Healy-Pratt from Stewarts Law, who is representing the majority of the bereaved families, said: "This is another important step for the families in their long journey for answers and justice."
He said the families now expected the CPS to give a definitive answer about criminal charges before the next hearing in January.
"The families are also waiting on the prime minister to discuss the matter of their legal aid funding with the Lord Chancellor, which was promised in the House of Commons on 1 November."