Baby Puck parents say 'information could have saved' son's life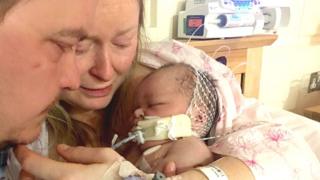 A grieving couple say they could have saved their son's life if they had been "kept fully informed" by medical staff.
Jo Meeke was told her baby was safe before an emergency caesarean section at St Richard's Hospital, Chichester, last March.
Puck later died in a neo-natal unit.
The inquest into his death found that the lack of information about potential risks provided to the couple prevented them from making a potentially life-saving choice.
Western Sussex Hospitals NHS Foundation Trust expressed its "heartfelt condolences" to Puck's parents and apologised for the care which it says "fell short of the usual high standards of our maternity service".
In a statement, Ms Meeke and Puck's father Matt Gurney, from Bosham in West Sussex, said: "Since Puck's death we have scrutinised all the medical records and feel that we were never kept fully informed of the progression of my labour.
"Reassurances from the medical experts were false and had we been advised fully about the seriousness and potentially catastrophic risks of the situation and been offered the choice of an immediate C-section, we would have taken that option with open arms.
"If that had happened, the coroner has found that Puck's life would not have been lost. Instead, Puck's life was over before it had really begun."
Just after 18:15 GMT on 15 March, doctors decided to deliver Puck - named after the character in Shakespeare's A Midsummer Night's Dream - by emergency caesarean section.
But he needed to be resuscitated and died at Southampton University Hospital's neo-natal unit the next day.
The coroner, who welled up as she thanked the couple for their cooperation, concluded at the end of the three-day inquest that Puck died of natural causes.
A post-mortem examination found he died of hypoxia - a lack of oxygen to the brain - brought on by an abruption which is where the placenta partially or completely separates from the uterus.